The library and resource center houses archival yearbooks and video footage of McKinley High's past. Here you will find summaries of the various episodes of Glee
So a new school year is upon us. With New Directions given another year to prove themselves, what will happen next? Can glee continue to find a way to stay alive?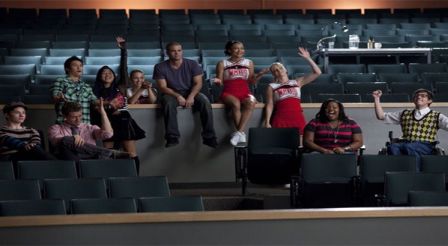 Episode 1: Audition (Original Airdate: 9/21/10)
It's a new school year, and when budget cuts at McKinley threaten both glee and the Cheerios, Will and Sue meet new football coach Shannon Beiste (Dot Jones). New hopefuls also audition for glee, including Sunshine (Charice), a talented exchange student that makes Rachel jealous, and Sam (Chord Overstreet), a jock with his sights set on Finn's position on the football team


Episode 2: Britney/Brittany (Original Airdate: 9/28/10)
When Brittany and the glee club try to convince Will to do a Britney Spears number, he is hesitant to go that extreme. Meanwhile, Will's curiosity marks the arrival of Emma's new love interest Carl Howell (John Stamos), a dentist who proceeds to put four of New Directions' members under anesthesia where they experience Britney-inspired dream sequences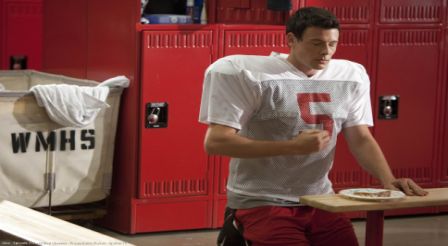 Episode 3: Grilled Cheesus (Original Airdate: 10/5/10)
Believing that he's seeing the face of Jesus in his grilled cheese sandwich, Finn suffers an existential crisis. Kurt has a crisis of his own regarding his father which leads to the rest of the glee club rallying to his cause and questioning their own theology as they deal with the situation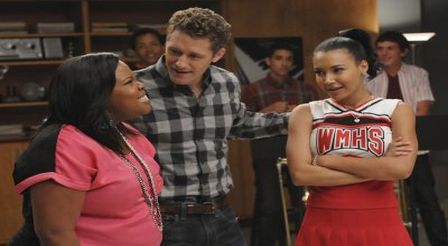 Episode 4: Duets (Original Airdate: 10/12/10)
Sam officially joins New Directions, bringing the club back up to its twelve-member requirement. The kids are split into pairs to do a duet assignment which will also feature a competition element, and Rachel and Finn scheme to throw the contest in order to let Sam win. Meanwhile, a love triangle forms between Artie, Mike and Tina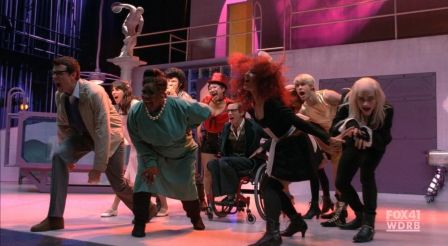 Episode 5: The Rocky Horror Glee Show (Original Airdate: 10/26/10)
It's Halloween, and Will decides to have the glee club stage a production of "The Rocky Horror Picture Show" for the annual school musical upon learning that Emma has been showing a newfound love for the cult flick. But how far is he willing to go for love?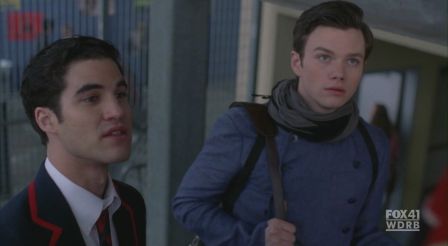 Episode 6: Never Been Kissed (Original Airdate: 11/9/10)
The kids face off once again in a boys vs. girls mash-up showdown. When Kurt's bullying problem with Karofsky goes too far, he meets Blaine Anderson (Darren Criss) - a student at Dalton Academy who faced the same problem in the past, and Coach Beiste is on the minds of the glee club, which has them doing a lot of explaining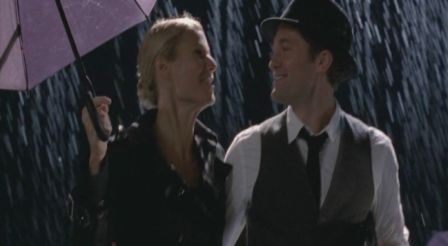 Episode 7: The Substitute (Original Airdate: 11/16/10)
When Will (and practically most of the population of McKinley High) falls sick with the flu, the glee kids get a substitute teacher named Holly Holliday (Gwyneth Paltrow) who eventually wins them over. Meanwhile, Sue fills in for Figgins as principal of McKinley High, seizing the opportunity to flaunt her power over the school


Episode 8: Furt (Original Airdate: 11/23/10)
Sue's Nazi-hunting mother Doris Sylvester (Carol Burnett) comes to Lima to visit her daughters. Burt and Carole get married in a romantic wedding with help from Will and the glee club, while Sue stages her own wedding...with herself. And Kurt's dealings with Karofsky reach its breaking point to where he decides to transfer to Dalton Academy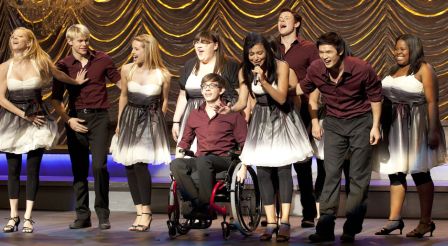 Episode 9: Special Education (Original Airdate: 11/30/10)
New Directions gears up for their sectionals showdown against the Warblers and the Hipsters, looking to win their second consecutive championship. When a shocking development arises regarding Emma's relationship with Carl, can Will find the strength to keep fighting for the person he loves?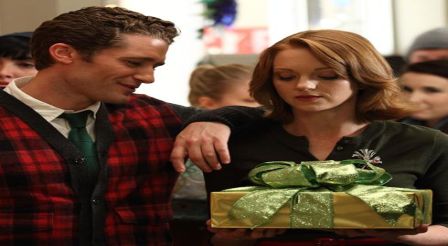 Episode 10: A Very Glee Christmas (Original Airdate: 12/7/10)
Christmas has come to McKinley High. Finn tries to spread a little holiday cheer, Artie learns that Brittany still believes in Santa, and Sue (the school's resident Grinch) rigs the faculty Secret Santa exchange so she winds up with all the presents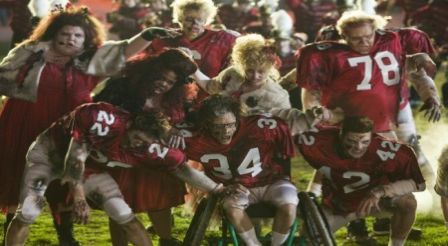 Episode 11: The Sue Sylvester Bowl Shuffle (Original Airdate: 2/6/11)
With a week to go till the championship football game, the Titans have lost their sense of unity, so Will and Coach Beiste devise a plan to have them join glee club. Meanwhile, Sue tries a dangerous stunt for an upcoming competition, but the consequences are severe when Figgins denies her the opportunity and her three top Cheerios quit the squad for good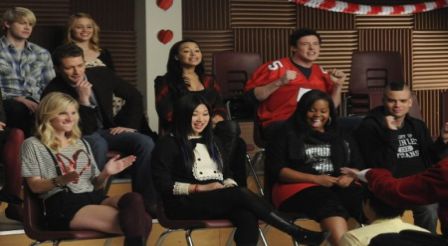 Episode 12: Silly Love Songs (Original Airdate: 2/8/11)
It's Valentine's Day, but love is definitely not in the air for some members of New Directions as relationships become messy. Finn decides to show an act of goodwill and run a kissing booth, with proceeds going towards the club's possible trip to nationals, and Kurt declares his love for Blaine


Episode 13: Comeback (Original Airdate: 2/15/11)
Sam forms a tribute band with some of the other glee guys, Rachel tries to reinvent herself with help from Brittany, and Lauren gets her first solo. Will and Emma try to help Sue when she goes into a deep depression, Emma suggesting that the Cheerios coach join glee for a week to help get her groove back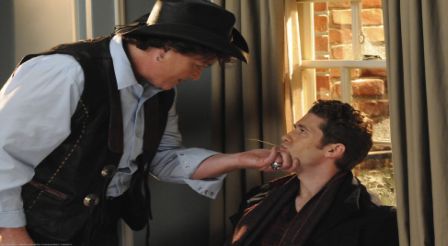 Episode 14: Blame It On The Alcohol (Original Airdate: 2/22/11)
Principal Figgins lectures the McKinley High population on the dangers of alcohol abuse during Alcohol Awareness Week at the school, a message at first the glee kids take to heart until a house party at Rachel's gets a little out of hand. Meanwhile, Coach Beiste and Will indulge in a little fun of their own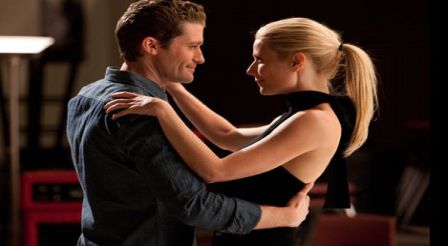 Episode 15: Sexy (Original Airdate: 3/8/11)
Holly Holliday (Gwyneth Paltrow) returns to McKinley High, this time as a substitute sex education teacher, to team up with Will to teach the glee kids about "the birds and the bees" through song. At the same time, Emma resurrects the Celibacy Club, and personal issues regarding her relationship with Carl are addressed which leads to a shocking revelation


Episode 16: Original Song (Original Airdate: 3/15/11)
Quinn sets out on a quest for popluarity by aiming for the title of prom queen and hooks up with Finn to do it. New Directions competes at regionals against the Warblers and the Sue-led Aural Intensity with something never attempted before: their own original music. With a spot at nationals on the line and against incredible odds, will the McKinley team's gamble pay off?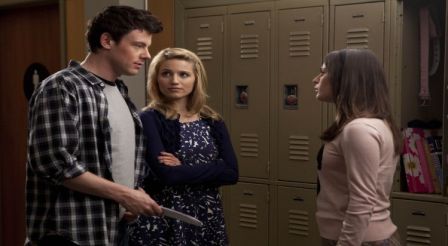 Episode 17: A Night Of Neglect (Original Airdate: 4/19/11)
The glee club hosts a fundraiser to help the academic decathlon team and revelations are made regarding several relationships. Meanwhile, Sue forms a "League of Doom" consisting of herself, Terri, former glee coach Sandy Ryerson and current Vocal Adrenaline coach Dustin Goolsby (Cheyenne Jackson) in yet another attempt to destroy New Directions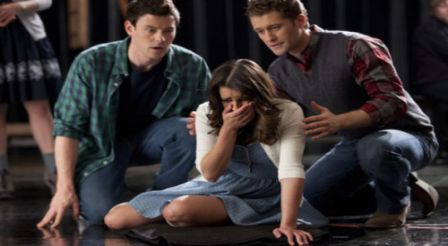 Episode 18: Born This Way (Original Airdate: 4/26/11)
Will teaches the kids a lesson in self-acceptance through the music of Lady Gaga. Kurt returns to McKinley High, Emma seeks help for her OCD issues, Rachel faces a difficult decision that could affect her life, Lauren and Quinn battle it out to be prom queen, and Santana has something up her sleeve that could possibly change the glee dynamic


Episode 19: Rumors (Original Airdate: 5/3/11)
Sue's latest scheme has her resurrect the school newspaper to print some rather misleading stories, and the glee kids learn more about Sam's family life. Meanwhile, April Rhodes (Kristin Chenoweth) returns to recruit Will to hit the road with her as part of her new stage show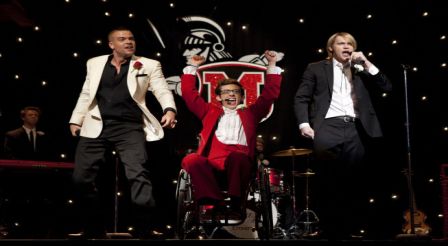 Episode 20: Prom Queen (Original Airdate: 5/10/11)
Prom fever has swept McKinley High! Figgins recruits New Directions to entertain at the event when the original entertainment cancels (much to Sue's dismay), Quinn finds out whether or not she becomes prom queen, and some shocking developments arise when Jesse St. James (Jonathan Groff) returns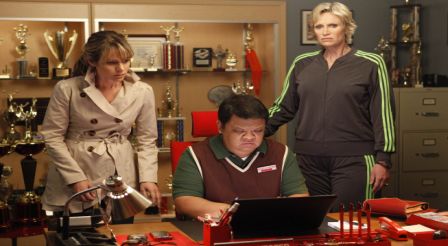 Episode 21: Funeral (Original Airdate: 5/17/11)
Crunch time arrives for the glee club as they make final preparations for nationals with Jesse's assistance, and Terri saves the day when Sue schemes to screw up the travel arrangements. However, things get shaken up at McKinley when an unexpected loss rocks a member of the school community


Episode 22: New York (Original Airdate: 5/24/11)
The time has finally come for New Directions to do battle with Vocal Adrenaline and some of the top show choirs in the country at the national competition. And when Will finds himself at another crossroads, the decision he makes would not only affect his life, but the lives of the kids he has guided along the way
*End of Season 2*