The library and resource center houses archival yearbooks and video footage of McKinley High's past. Here you will find summaries of the various episodes of Glee
With another school year set to go, many questions will eventually be answered. Will Sue win a seat in Washington? And can Will find happiness with Emma? But most importantly, with several of the original members set to graduate, can New Directions finally find the breakthrough they've been looking for against arch-rivals Vocal Adrenaline and win it all this time around?


Episode 1: The Purple Piano Project (Original airdate: 9/20/11)
Senior year has finally come! As Will and the members of New Directions set out to recruit new members, new relationships are formed and new challenges begin to arise...especially when Sue gains more political favor with her ultimate plan to eliminate arts programs in public schools! How will the club overcome Sue's latest "destroy glee" scheme?


Episode 2: I Am Unicorn (Original airdate: 9/27/11)
Relationships are put to the test when casting for the school musical "West Side Story" begins, directed by Artie, Emma and Coach Beiste. Kurt runs for senior class president, Will starts a dancing "boot camp" for the kids, and the father of tone-deaf rich girl Sugar Motta funds a second McKinley glee club coached by a returning Shelby Corcoran (Idina Menzel)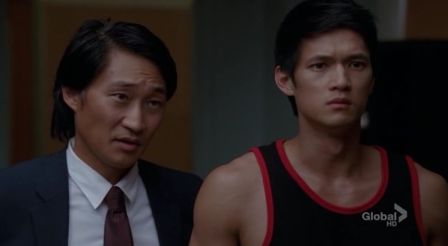 Episode 3: Asian F (Original airdate: 10/4/11)
When Mike gets an A-minus on a chemistry test, his traditionalist father advises him to drop his dream of becoming a dancer to focus on academics. Brittany decides to run for president on her own, Will wants to meet Emma's parents, and Rachel and Mercedes compete in the ultimate diva-off for the lead in the school musical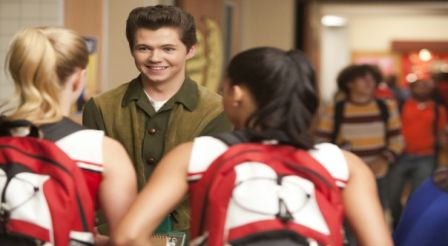 Episode 4: Pot O'Gold (Original airdate: 11/1/11)
Rory Flanagan (Damian McGinty), an exchange student from Ireland, arrives in Lima and stays with Brittany's family. Mercedes gets Santana to defect with her to Shelby's glee club, Quinn schemes to gain custody of Beth, and Burt Hummel takes a stand against Sue and enters the congressional race when the school musical hits a roadblock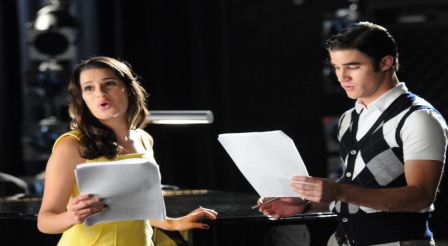 Episode 5: The First Time (Original airdate: 11/8/11)
Rachel and Kurt decide that they want to go "all the way" with Finn and Blaine, while Coach Beiste is the target of affection by a visiting football scout named Cooter Menkins (Eric Bruskotter). Meanwhile, the opening night performance of "West Side Story" is drawing ever closer, will the production be a success?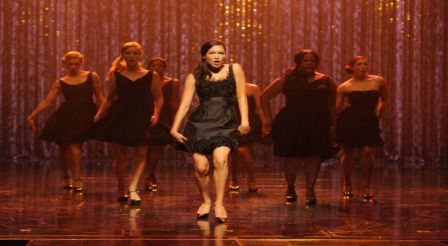 Episode 6: Mash-Off (Original airdate: 11/15/11)
Burt's popularity in the congressional race grows, driving Sue to start a smear campaign against him and Will to learn the truth about her anti-arts platform. New Directions and the Troubletones engage in a friendly mash-up battle, and Finn teaches Rory the finer points of trash-talking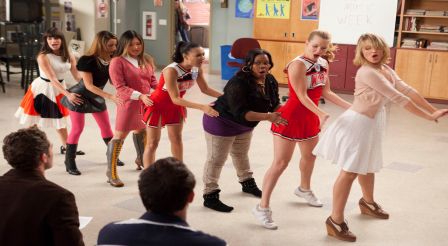 Episode 7: I Kissed A Girl (Original airdate: 11/29/11)
The election races for senior class president and congress reach their end. Coach Beiste challenges Sue over Cooter, Santana finds the courage to come out of the closet, Puck lets Quinn in on a secret and someone is caught tampering with the class president voting, resulting in a hitch in New Directions' sectionals plans as the competition gets closer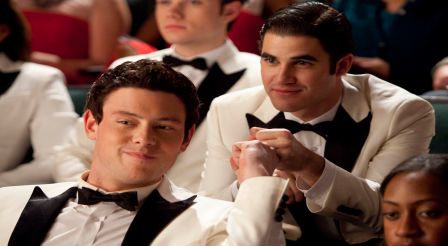 Episode 8: Hold On To Sixteen (Original airdate: 12/6/11)
With Rachel suspended, New Directions is in need of members as it prepares for sectionals against the Troubletones and the Unitards, led by NYADA hopeful Harmony (Lindsay Pearce). Finn manages to track down former member Sam Evans (Chord Overstreet) and gets him to rejoin the team, and with McKinley hosting the competition the stakes are high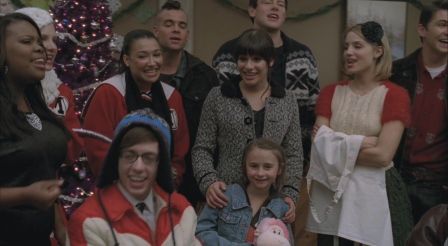 Episode 9: Extraordinary Merry Christmas (Original airdate: 12/13/11)
The holiday season is here, and Rory finds a friend in Sam when he develops a bout of homesickness. Meanwhile, the club is stuck between two events they've lent their participation to: helping out at the homeless shelter with Sue and starring in their own holiday special for the local PBS station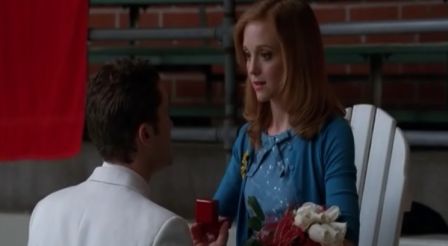 Episode 10: Yes/No (Original airdate: 1/17/12)
Will decides to propose to Emma and gets help from the glee club to make it memorable. In an attempt to win Mercedes back, Sam literally goes "off the deep end" and joins the synchronized swimming team coached by Roz Washington (NeNe Leakes) while Becky Jackson develops a crush on Artie and Finn muses about his future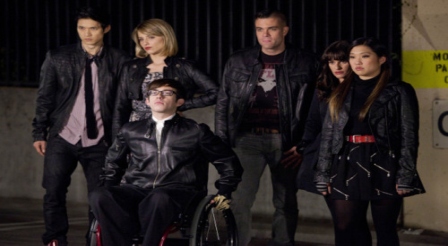 Episode 11: Michael (Original airdate: 1/31/12)
When the former members of the Troubletones express their disappointment in not being part of New Directions' Michael Jackson medley at sectionals, Will proposes a week dedicated to the late superstar's music and legacy. But what happens when Sebastian (Grant Gustin) and the Warblers challenge for the right to do Michael at regionals?


Episode 12: The Spanish Teacher (Original airdate: 2/7/12)
When Will's Spanish-speaking skills are called into question, he organizes a Latin-themed music week for New Directions and enlists his night school instructor David Martinez (Ricky Martin) to help out. Sam and Mercedes go to Emma for advice about their relationship, and later Rachel spills the beans to Mercedes and Kurt about Finn's marriage proposal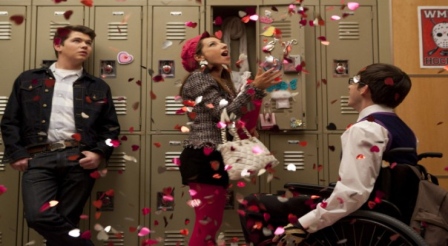 Episode 13: Heart (Original airdate: 2/14/12)
Love is in the air at McKinley. For Valentine's Day, Will challenges the members of New Directions to find and perform the world's greatest love songs. Rory and Artie vie for Sugar's affections, Mercedes contemplates her relationships with Sam and Shane, new student Joe Hart (Samuel Larsen) arrives and we meet Rachel's dads Hiram (Jeff Goldblum) and Leroy (Brian Stokes Mitchell)


Episode 14: On My Way (Original airdate: 2/21/12)
With Regionals around the corner, Sebastian tries to blackmail Rachel into dropping out of the competition. Will shares a dark secret from his past with the glee kids when they learn of Dave Karofsky's attempted suicide, and Quinn (after successfully gaining her place back on the Cheerios) gets into a serious car accident


Episode 15: Big Brother (Original airdate: 4/10/12)
The countdown to graduation is on! As New Directions begin preparations for nationals, Blaine's older brother Cooper (Matt Bomer) comes to town much to the delight of Will and Sue (who enlist him to help the glee club) and to the chagrin of Blaine. The aftermath of Quinn's accident is also revealed, which Rachel blames herself over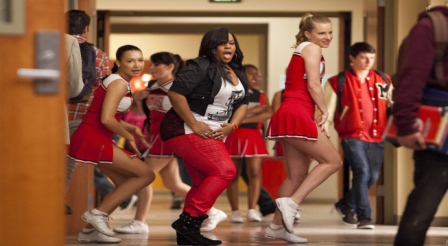 Episode 16: Saturday Night Glee-ver (Original airdate: 4/17/12)
Will is worried that some of his students are unclear of their futures, so he uses the music of the movie "Saturday Night Fever" thanks to a suggestion from Sue as a platform to help inspire them, which in turn would help inspire others close to them. Wade (Alex Newell), a transgender student from Carmel High, befriends Kurt and Mercedes


Episode 17: Dance With Somebody (Original airdate: 4/24/12)
The glee club pays tribute to Whitney Houston by performing some of her greatest hits as they prepare to let go of their high school lives and look to the future. Meanwhile, Will and Emma get one step closer to the wedding of their dreams, Kurt and Blaine hit a block in their relationship, and Quinn gets some spiritual assistance from Joe


Episode 18: Choke (Original airdate: 5/1/12)
Theatre grande dame and NYADA professor Carmen Tibideaux (Whoopi Goldberg) makes a special visit to Lima to audition finalists Kurt and Rachel for spots in the prestigious school. Puck's reunion with his long-lost father (Thomas Calabro) gives him a revelation about his future and Coach Beiste opens up about a shocking new truth about herself


Episode 19: Prom-asaurus (Original airdate: 5/8/12)
Brittany, as senior class president, spearheads the organization of the annual McKinley prom with a prehistoric theme. When the nominees for the prom royalty are announced, some students go into campaign mode while others rebel Brittany's crazy prom rules by staging their own "anti-prom"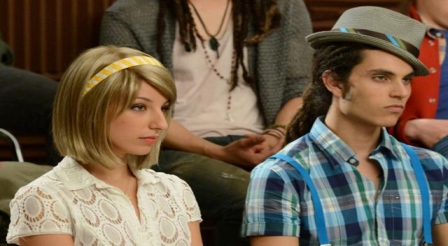 Episode 20: Props (Original airdate: 5/15/12)
[Part 1 of 2] As preparations for nationals get under way, Tina bumps her head and sees her world turned upside-down as she experiences a dream where everyone has switched bodies! Sue tries to get the group to resort to over-the-top methods to gain an edge over their rivals, while Puck and Beiste help each other through their tough situations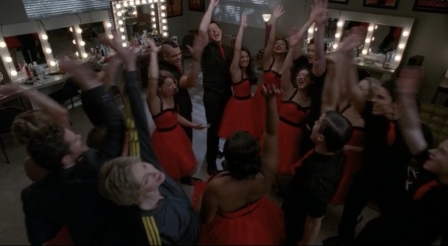 Episode 21: Nationals (Original airdate: 5/15/12)
[Part 2 of 2] Chicago is the venue for the 2012 national championship, and for the members of New Directions it all comes down to one more battle with perennial powerhouse Vocal Adrenaline. It is the last shot for the graduating members, so will they finally overcome all the odds and win the title?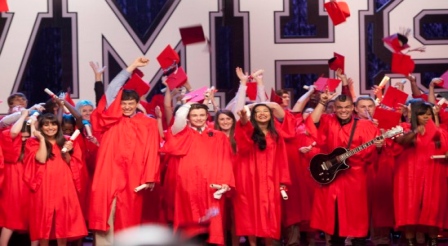 Episode 22: Goodbye (Original airdate: 5/22/12)
The day has finally come for the seniors of McKinley High: graduation day. As the departing members of the glee club prepare to say their farewells, they reflect on their past and prepare to look ahead to their future. Hopefully what Will has taught them will carry forward to the next phase of their lives
*End of Season 3*