Mike Chang

I was afraid to dance outside my room...

Mike's Bio
Age: 18
Clique: New Directions Alumni
Talents: Popping and locking
Strengths: Dancing, choreography
Other: Often referred to as "Other Asian"
Mike was among the last of the original twelve to join New Directions. He is also a member of the football team and was recruited by Finn, along with Puck and former member Matt Rutherford, to the glee club after performing the "Single Ladies" dance on the field during a game. Often quiet and shy, he uses glee as an outlet to showcase his amazing dancing talents and often helps with choreography for the group. He aspires to become a professional dancer
However, his traditionalist father does not share his views and virtually has his future planned out for him, such as what college he should attend and his eventual career path. His mother, on the other hand, is more encouraging and wants Mike to be happy and live out his dreams
He is now attending the Joffrey Academy of Dance in Chicago on a full scholarship and working on a long-distance relationship with Tina

Actor Bio - Harry Shum Jr.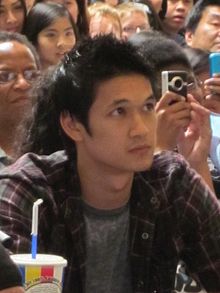 Unlike his character who at first was afraid to dance outside his room, Harry is a professional dancer and choreographer. Born in Costa Rica, he moved to California with his family when he was 5. He didn't start dancing until high school, when a friend dared him to try out for the dance team and he trained himself by watching music videos and taking dance classes. His first break as a dancer was on the BET show ComicView in 2002. That break led to jobs as a backup dancer to Jennifer Lopez, Mariah Carey, Jessica Simpson and Beyonce (along with Heather Morris) and being cast as the dancing silhouette in the iconic iPod commercials
Harry also works as a performer and choreographer for the dance troupe the League of Extraordinary Dancers (LXD), landing performance gigs on So You Think You Can Dance and the Academy Awards, also spawning an online web series. As well, the LXD was the opening act on the four-city Glee concert tour in 2010. During Glee's second season, he was promoted to a series regular for the third season
His birthday is April 28, a date he shares with co-star Jenna Ushkowitz
Fun Facts
Harry's girlfriend, Shelby Rabara, had a small role in the first season of Glee as Shoshandra, one of the members of rival glee club Vocal Adrenaline