Santana Lopez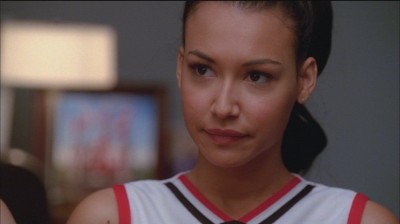 I like being in glee club, okay? It's the best part of my day

Santana's Bio
Age: 18
Clique: New Directions Alumni
Talents: Singing, dancing, seduction
Strengths: Performance skills
Other: Fluent in ghetto slang
From the mean streets of Lima Heights Adjacent comes the feisty Latina firecracker Santana, who has a body of death and an attitude to match. She was initially recruited into New Directions as a spy for Sue along with Quinn and Brittany so the coach could bring down the group from the inside, however she does begin to learn to love glee, revealing that it is the best part of her day. She's a schemer, often floats from man to man and not afraid to say what's on her mind out loud, even if it's a well-directed insult towards Rachel or her fellow glee teammates
She is often seen together with her BFF and "partner in crime" Brittany, the latter mostly following like a shadow possibly showing that the duo are much more than friends. She was fiercely loyal to the Cheerios until persuaded by Finn to quit after learning that Sue was going to shoot Brittany out of a cannon and changed her affiliation to glee, but nobody knows what she will do next. She is, however, setting her sights on stardom and works as a waitress at Coyote Ugly in New York City, living with Kurt and Rachel in their Bushwick loft and also taking extension dance classes at NYADA

Actor Bio - Naya Rivera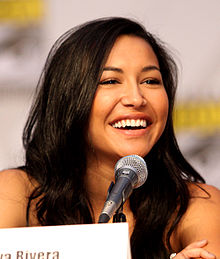 Naya is the total opposite of her character. Born and raised in Valencia, California, she has been modelling and acting ever since she was very young, following in her mother's footsteps. She appeared in her first commercial while still a baby.
At the age of four, she got her first television role in the short-lived Eddie Murphy sitcom The Royal Family, and that appearance led to other guest roles in shows such as 8 Simple Rules, CSI: Miami and The Fresh Prince of Bel-Air as well as recurring roles in The Bernie Mac Show and Family Matters.
She landed the role of Santana in Glee with no cheerleading background, though she has said she had always wanted to pursue that goal in high school in real life. Naya also enjoys songwriting (she has been writing songs since she was 15) and was recently signed by Columbia Records to release a solo album, becoming the second cast member to sign a solo recording deal with a major label
Her birthday is January 12
Fun Facts
Like her castmate Amber Riley, Naya also auditioned for American Idol and was rejected. No wonder why the two of them were featured in a couple of duets in Glee!