The library and resource center houses archival yearbooks and video footage of McKinley High's past. Here you will find summaries of the various episodes of Glee
And so, the story picks up where it left off - the club fresh off a regionals victory thanks to an unprecedented second chance and preparing for nationals, Rachel possibly on the brink of landing her dream Broadway role, Brittany graduating early to study at MIT, and Will and Emma finally getting married. What is in store next for our team of underdogs?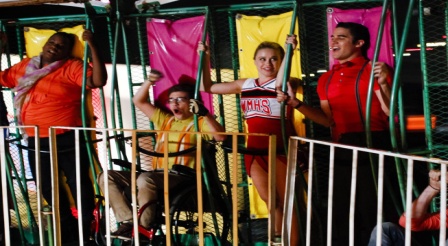 Episode 1: Love, Love, Love (Original airdate: 9/26/13)
As New Directions works towards nationals, they take on some of the most iconic music of all time - the legendary songs of the Beatles. At the same time, Santana helps Rachel get a job at a diner while the latter waits for news of her Funny Girl audition and Blaine looks to pop the question to Kurt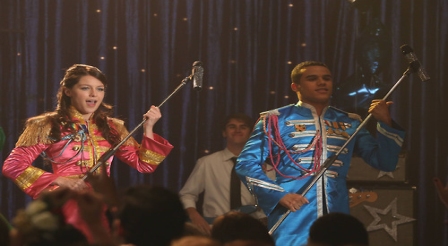 Episode 2: Tina In The Sky With Diamonds (Original airdate: 10/3/13)
In the second Beatles tribute, prom fever once again grips McKinley with Tina going overboard in her quest to be prom queen while Sam attracts the attention of new school nurse Penny Owen (Phoebe Strole). In New York, Santana makes the acquaintance of a struggling artist named Dani (Demi Lovato)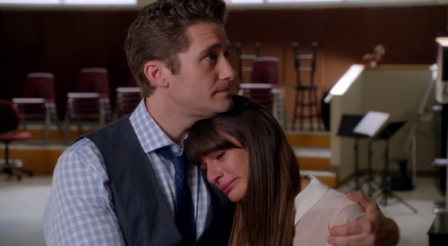 Episode 3: The Quarterback (Original airdate: 10/10/13)
The McKinley High community and members of New Directions past and present come together to deal with the tragic loss of Finn while at the same time celebrating his life and the impact he has made on them (Tribute to Cory Monteith)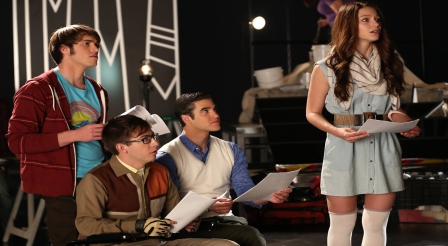 Episode 4: A Katy or A Gaga (Original airdate: 11/7/13)
Will challenges the glee kids to step out of their comfort zones with the music of Katy Perry and Lady Gaga after finding out one of their opponents for nationals. Meanwhile, Kurt starts a cover band and is worried that a charismatic performer who calls himself Starchild (Adam Lambert) will overshadow him


Episode 5: The End Of Twerk (Original airdate: 11/14/13)
The gleeks pick up on the twerking craze thanks to a viral video by Blaine, but how far will they take it before it gets out of control? Marley notices that Jake is getting friendly with Bree, Unique struggles with her identity, and as Rachel begins "Funny Girl" rehearsals she encourages Kurt to go and get a tattoo with her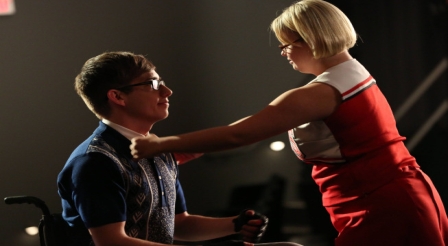 Episode 6: Movin' Out (Original airdate: 11/21/13)
Sue bans artistic professions from the school's career fair, resulting in Will and the glee kids using the music of Billy Joel to inspire them as the seniors ponder their futures. Blaine and Sam take a road trip to New York to get career advice from Kurt, while Artie advises Becky about looking into attending college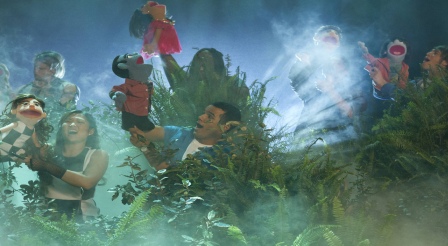 Episode 7: Puppet Master (Original airdate: 11/28/13)
Blaine thinks that he has the winning strategy for nationals, but the rest of the glee club (and even Kurt) accuse him of being too controlling. Sue delves into the history behind her tracksuit while getting in touch with her feminine side, and Kurt's new band play their first New York gig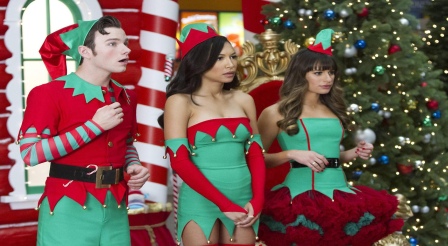 Episode 8: Previously Unaired Christmas (Original airdate: 12/5/13)
Sue introduces a Christmas special that Fox didn't allow to air last season - the gleeks enter a school-wide tree decorating contest while Figgins also enlists them to be part of a "living Nativity scene" where all the girls except Kitty want to be Mary. Meanwhile, Santana visits Kurt and Rachel for the holidays where the trio get jobs as mall elves


Episode 9: Frenemies (Original airdate: 2/25/14)
When Santana auditions for and gets the part of Rachel's understudy in "Funny Girl", the tension between the two roommates results in a massive feud. Meanwhile, Tina and Artie compete with each other to become the senior class valedictorian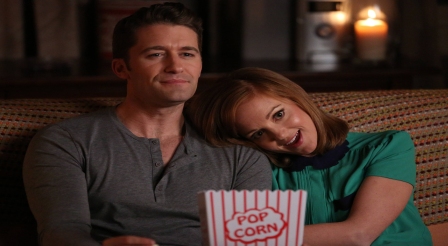 Episode 10: Trio (Original airdate: 3/4/14)
Emma and Will attempt to start a family of their own, and with graduation looming the seniors stage a "lock-in" at school that is promptly stopped by Sue. Meanwhile, Elliott is caught in the middle of Rachel and Santana's ongoing feud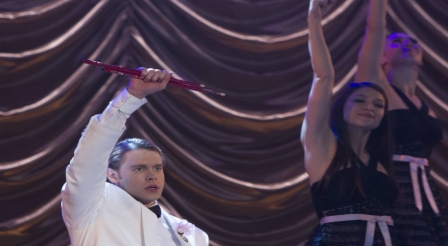 Episode 11: City Of Angels (Original airdate: 3/11/14)
The time has finally come! New Directions arrives in Los Angeles for the national show choir competition and prepare to take on their biggest challenge yet - their new rivals Throat Explosion. After all they've been through over the course of the year, can they add a second straight national title to their list of achievemnts?


Episode 12: 100 (Original airdate: 3/18/14)
100 episodes, 100 lessons. In this milestone episode, the entire club past and present along with friends Holly (Gwyneth Paltrow) and April (Kristin Chenoweth) reunite and reflect on how being part of the group has changed their lives by reinventing past performances


Episode 13: New Directions (Original airdate: 3/25/14)
It's the end of an era as with glee club permanently disbanded despite attempts from Holly and April to save it, the group says their final goodbyes as the remaining seniors Artie, Tina, Sam and Blaine prepare to graduate. A surprising source hopes to end Rachel and Santana's feud, while a heartbroken Will receives an offer that could affect his teaching career at McKinley


Episode 14: New New York (Original airdate: 4/1/14)
Several months have passed since graduation, and Artie, Blaine and Sam are settling into their new lives in New York while Mercedes moves to the city to start her recording career. The perks of stardom could possibly cost Rachel when she returns from an out-of-town run with her show, and Blaine questions Kurt's friendship with Elliott


Episode 15: Bash (Original airdate: 4/8/14)
When Rachel's "Midwinter Critique" performance for Carmen Tibideaux (Whoopi Goldberg) doesn't go as planned and with her opening night performance ever closer, she has a big decision to make. Meanwhile, Sam tries to rekindle his old romance with Mercedes, and Kurt has a run-in with an attacker when trying to come to the aid of another person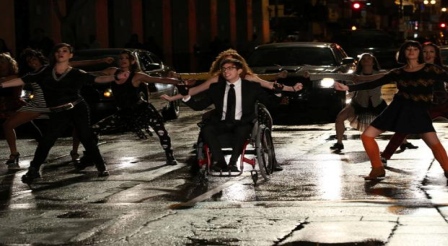 Episode 16: Tested (Original airdate: 4/15/14)
Blaine becomes obsessed with "cronuts" and gains weight as Kurt's reputation at NYADA continues to rise, leading to some uncharacteristic decisions. Artie becomes somewhat of a "womanizer" after the boys get tested for STDs, and Sam and Mercedes contemplate taking their relationship to the next level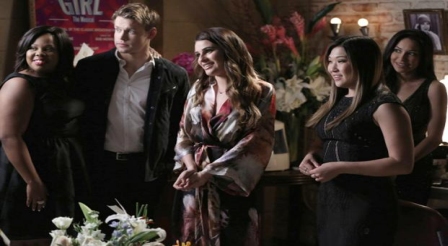 Episode 17: Opening Night (Original airdate: 4/22/14)
The gang rallies to help Rachel boost her confidence before she makes her Broadway debut in "Funny Girl" when random online trolls try to tear her down. Will arrives in the city to support his former student, and Sue, who has tagged along under negative assumptions about the show, unexpectedly finds love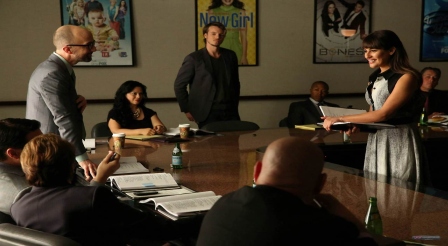 Episode 18: The Back-Up Plan (Original airdate: 4/29/14)
Rachel puts her role in "Funny Girl" in jeopardy when she decides to audition for a TV pilot. A New York socialite named June (Shirley MacLaine) takes Blaine under her wing, and Mercedes turns to Santana for help in finding a new sound for her debut album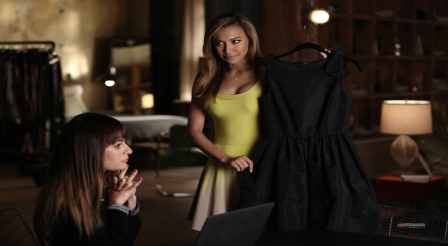 Episode 19: Old Dog, New Tricks (Original airdate: 5/6/14)
Looking to salvage her reputation among Broadway gossipmongers, Rachel hires Santana as her publicist and creates a charity for homeless animals, while Kurt scores a role in a retirement home production of "Peter Pan". Meanwhile, Sam decides to adopt a dog despite Mercedes' objections, but the result ends in catastrophe (Written by Chris Colfer)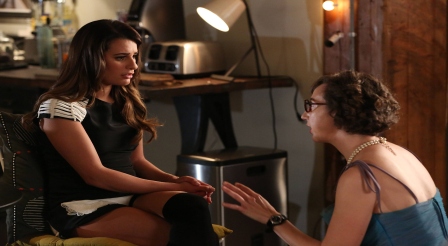 Episode 20: The Untitled Rachel Berry Project (Original airdate: 5/13/14)
An eccentric screenwriter wants to write a TV show about Rachel's life, which catches Rachel herself off guard. As their careers begin to take off, Mercedes and Sam contemplate ending their relationship, and while Blaine prepares for his showcase with June, it may require him to break a promise to Kurt which puts their own relationship at risk
*End of Season 5*